The STEPS Program is a transitional program for students with mental health needs who exhibit internalizing behaviours (e.g. fearfulness, social withdrawal, nervousness, etc.) and/or externalizing behaviours (e.g. physical aggression, defiance, relational aggression, etc.) that significantly impact their ability to achieve personal success in a typical classroom within their community school.
The goal of the STEPS Program is to support students in transitioning and reintegrating into their community school and classroom. Successful students are able to step back into a regular classroom by:
Developing self-regulation and social thinking skills,
Maintaining academic growth in the areas of literacy and numeracy, and
Self-advocating and independently choosing and implementing an appropriate strategy to manage challenging situations effectively.
The Classroom Community
The STEPS Program prioritizes creating a safe and supportive classroom community. A team of school- and community-based specialists works together with the student and their parent(s)/guardian(s) to determine the student's individual needs, and then creates, implements and monitors a plan of support intended to set the student on the path to success.
This collaborative team is composed of:
The student,
The parent(s)/guardian(s),
A team of PSD staff, including:

Teachers,
Administrators,
Educational Assistants,
A Social Emotional Facilitator,
Other Student Supports and Services staff and consultants, as applicable

A Mental Health Nurse, contracted through Alberta Health Services, and
Additional community partners and agencies, as applicable.
STEPS classrooms offer highly structured and supportive learning environments with low staff-to-student ratios (approximately 1:3) to promote self-regulation and foster positive social thinking skills. Individualized and targeted interventions, strategies and accommodations are provided to support the mental well-being of each student, while retaining a focus on literacy and numeracy.
STEPS Classrooms are located in: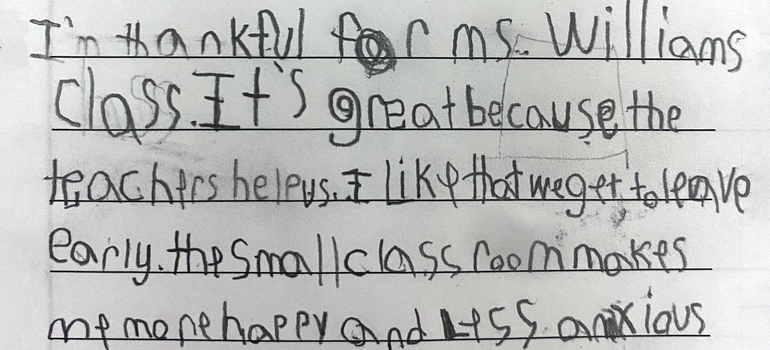 In Their Own Words...
"I'm thankful for Ms. Williams' class. It's great because the teachers help us. I like that we get to leave early. The small classroom makes me more happy and less anxious."

- From a STEPS Student's Gratitude Journal
Program Eligibility Criteria
Students are enrolled in the STEPS Program by recommendation from the student's community school and Student Supports and Services, in conversation with parent(s)/guardian(s).
The STEPS Program is best suited for students who have:
An identified and documented mental health need or diagnosis that significantly impacts their ability to achieve personal success in a typical classroom within their community school
An Individual Education Plan
Tier 1, 2, 3 strategies and supports in place at the school level
Tier 4 strategies and supports employed in coordination with the Student Supports and Services team
For more information contact:
Leah Andrews
Division Principal, Student Services
Phone: 780-963-8421
Email: leah.andrews@psd.ca