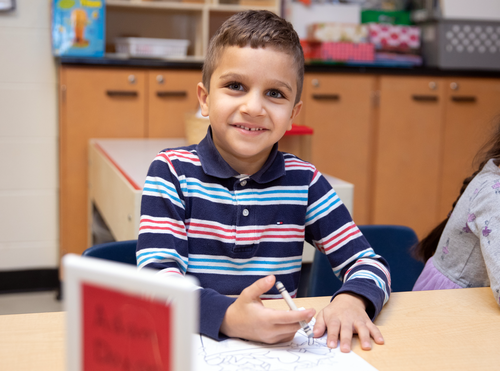 Kindergarten open houses for all schools in Parkland School Division that offer kindergarten programming will be held in-person at the schools on Thursday, February 16, 2023, from 6-7pm. (Please note: Open houses for French Immersion kindergarten are on a different day. Keep reading for more details.)
The open houses are designed as information nights, where parents/guardians can visit the school, see the kindergarten classroom, meet the staff and learn more about the kindergarten program and what their child will be doing and learning while they are part of it. Students may attend with a parent/guardian.
French Immersion
Open houses for French Immersion Kindergarten will be held on Wednesday, February 15, 2023.
Designed for students whose first language is not French, this bilingual education program is open to students who live in the eastern end of Parkland School Division. École Broxton Park School and École Meridian Heights School provide programming for students from Kindergarten to Grade 9. Graduates of the program can participate easily in French conversations, move on to take French Immersion courses in high school, take post-secondary courses with French as the language of instruction, and accept employment with French as the language of work. For more, visit the French Immersion program page.
PSD Christian Program
The PSD Christian Program is available to all families who want their Kindergarten to Grade 9 children taught in a non-denominational and spiritually nurturing environment.
Those families who are interested in their children entering Kindergarten with this program-of-choice should attend the open house for Brookwood School. (Middle Years students from Grades 5 through 9 can choose this program which is offered at Woodhaven Middle School in Spruce Grove.)
How to Register for Kindergarten
Fill out the online 2023-2024 New Student Registration Form once registration opens on Monday, February 13, 2023. The student's birth certificate and proof of residence will be required as part of the registration process. You will be able to upload copies of these documents during the online registration process or you may submit copies of these documents to the school.
  
All parents are encouraged to complete the online registration process by 4:30pm on March 24, 2023. This deadline allows us to determine the eligibility of bus pass applicants, the routing of buses and data verification before the summer break while schools are still operating. Registrations will continue to be accepted after the deadline for those families who may be moving into the jurisdiction.
During the registration process, it is important to select the 2023-2024 school year to register for the upcoming year. The option to register for 2022-2023 will remain for incoming students who wish to register for the balance of the current school year.
For further details about the online registration process, visit our Registration page.
Good to Know:
Registration requirements for Kindergarten are the same as those for Grades 1 through 12.
A child entering Kindergarten must be 5 years old by the last day of December of the school year in which he or she begins Kindergarten. For example, a child registering for Kindergarten in September 2023 needs to be 5 years old by December 31, 2023. A child entering Grade 1 must be 6 years old by the last day of December of the school year in which he or she begins Grade 1. For example, a child registering for Grade 1 in September 2023 needs to be 6 years old by December 31, 2023.
Kindergarten programs are offered on Monday/Wednesday or Tuesday/Thursday with alternating Fridays. 
For further information, contact your designated school.