Bus Driver Shortage Possibilities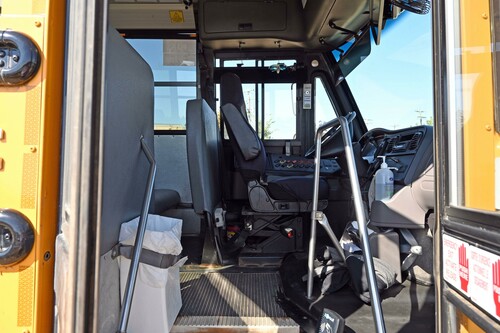 August 25, 2023 - Not unlike any year, Parkland School Division Transportation Services would like to remind stakeholders that just like new and returning riders to the system, our bus drivers and staff are all adjusting to new routes and routines as well.
Driver Shortages in PSD
Busing Contractors are working very hard to ensure every PSD route has a driver for the 2023-2024 school year. However, we anticipate driver shortages at different times throughout the year, especially as we enter cold and flu season, and during times when new drivers are trained and onboarded. Keep in mind that Week 2 is often busier on buses as the Grade 11 and 12 students from our two high schools begin to ride and some transfer buses may also be affected by driver shortages.
As new or replacement drivers are brought up to speed, PSD will continue to work with them and our contractors to ensure the flow of information happens as quickly as possible. Our Bus Status app relies on accurate information from the field and we update the app as soon as it comes in. We ask for your patience and understanding as drivers get accustomed to relaying the latest delays and developments in order to keep our central dispatch well-informed.
Bus drivers play an essential role in the educational journey of Parkland School Division students: each day of every school year, a fleet of 168 buses transports over 7,000 students safely to and from school. Our Transportation Services department works closely with several area contractors, many of whom are looking to add to their ranks of capable, safety-oriented bus drivers and ensure everyone continues to get a smooth ride where they need to go.
Why Drive a Bus?
Bus driving offers a unique, flexible employment opportunity*:
Find a perfect fit if you're looking for part-time hours.
Work a split day shift from Monday to Friday - no weekends!
Bring up to two preschool children along on your route, and save on daycare costs.
Take summers and holidays off with your children.
Save on gas by driving a bus: after you drop off your students at school, you can run errands in your free time: grab groceries, hit the gym, go to the library, and more! Many rural bus routes come into either Spruce Grove or Stony Plain.
Receive training to upgrade to a Class 2 license.
*Note: Benefits and policies may vary by contractor.
For more information, contact:
Transportation Services
E-mail: transportation@psd.ca
For more on Driver Shortages check out this video on YouTube.