Bus Driver Recruitment Event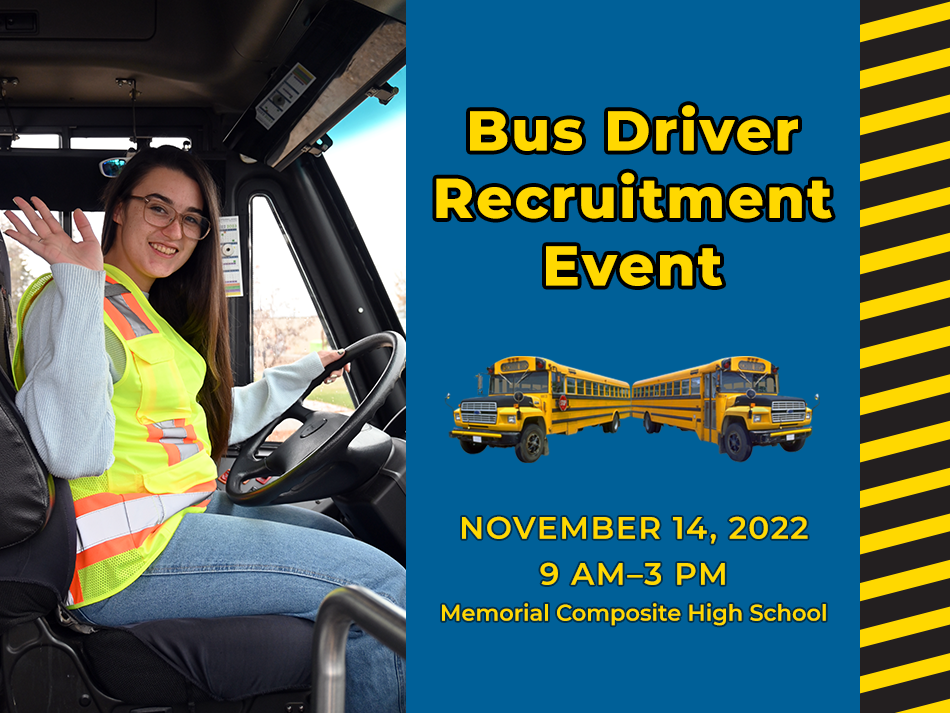 Have you ever wondered what it is like to drive a yellow school bus? Here is the chance to try it for yourself!
Transportation Services is assisting with a recruitment event where you can try driving a school bus. So, if you have ever wanted to drive a bus or thought you never could, this is the event for you! Come and give it a try—you'll be surprised just how easy driving a large vehicle can be, plus you will learn more about how rewarding it is to transport children and youth to/from school.
Date: November 14, 2022
Time: 9 a.m.–3 p.m.
Location: Memorial Composite High School (50 Westerra Centre, Stony Plain). Please enter near the school's main entrance, park in the student lot and walk over to the bus transfer area located on the southwest side of the school.
You must be 21 years of age or older and have at least a full and valid Class 5 Alberta driver's licence. Driving will be done on a closed course at a bus transfer site. Bus contractors and Transportation Services staff will be on-site to assist you and answer questions about being a school bus driver or operating a bus.
We look forward to welcoming you to this unique event. Please consider stopping by and joining our ranks of capable, safety-oriented bus drivers who ensure secure travel for our 7,000+ student riders.
Why Drive a Bus?
Bus driving offers a unique, flexible employment opportunity*:
Earn extra income.
Save on daycare costs: bring up to two children along on your route (must be at least six months old).
Save on gas by driving a bus: after you drop off your students at school, you can run errands in your free time: grab groceries, hit the gym, go to the library, and more! Many rural bus routes come into either Spruce Grove or Stony Plain.
Find a perfect fit if you're looking for part-time hours.
Work a split day shift from Monday to Friday—no weekends! (Contractors have various shifts and routes.)
Take holidays and summers off with your children.
Receive training to upgrade to a Class 2 driver's licence. All required training is FREE!
*Benefits and policies may vary by contractor.
PSD Bus Carriers are Hiring
If driving a school bus sounds like a good fit for you, please check out our Become a Bus Driver! story for more information, including contact names and numbers for bus contractors.
For more information contact:
Transportation Services
Phone: 780-963-8452
Email: Transportation@psd.ca