Virtual Learning Options for 2021-2022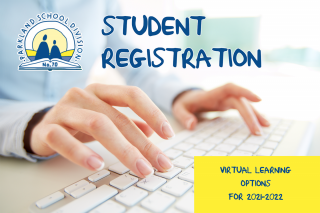 There is certainly a good portion of the school year remaining but Parkland School Division is already busy planning and preparing for the 2021-2022 school year, which can be challenging, considering the unknowns that are associated with the COVID-19 pandemic. Recognizing that public health measures will continue to drive many of the decisions for parents and educators alike, we still need to hear from you in advance when it comes to plans for your child in the next school year.
Parkland School Division is pleased to offer a Virtual Learning option for families in the upcoming school year. Launched in September 2020, Virtual Learning is a teacher-directed program, supported by the staff from Connections for Learning, that allows students to work full-time from home using virtual learning tools and remote access to content. The Virtual Learning program will be the primary option for families choosing to remain at home while still accessing school-division support. It is a full-time program, requiring a full-year commitment. 
Those families currently in Option 2 who wish to continue with an at-home online program similar to this year, will have their online needs met by registering for school at Connections for Learning in the Virtual Learning program. Please note, there will be no multiple set re-entry dates to return to in-class delivery. Those that may wish to return to a school in the middle of a school year will follow the process outlined in Administrative Procedure 304: Attendance Areas with respect to registration and placement and Parkland School Division's School-of-Choice process. 
We were able to offer four programming options to families this school year, in part because of the COVID-relief funding provided from both the provincial and federal governments.  We do not know if that funding will continue, but we still intend to support families as best as we can by offering both virtual and in-person options.
To assist in planning and to give administrators time to adjust classes and potentially teaching assignments for some staff, we need you to complete the Returning Student registration form as soon as possible. 
In-person Classes
Answer, yes I am returning to your designated school you are registered at this year.
Online/Distance Learning
If you are choosing online/distance learning next year, answer 'no' when asked if you are returning to your designated school and complete prompted questions where you can indicate that your child is currently attending a PSD school and wishes to attend a different PSD school in the 2021-22 school year. Then select Connections for Learning.
For further information, contact:
Parkland School Division
Email: divisionoffice@psd70.ab.ca
Phone: 780-963-4010