Virtual High School Open Houses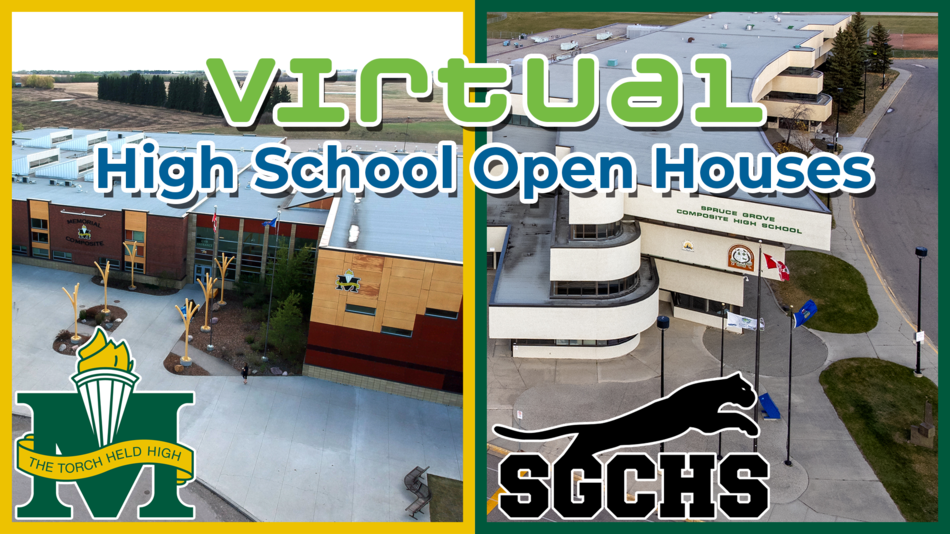 Memorial Composite High School and Spruce Grove Composite High School are happy to welcome area Grade 9 students and their parents/guardians to participate in their Virtual High School Open House events:
MCHS Grade 9
Open House

SGCHS Grade 9
Open House

Date: Thursday, March 10
Time: 6:30-8pm
Location: Virtual Meetings through Google Meet 

Date: Thursday, March 17
Time: 6-8pm
Location: Virtual Meetings through Google Meet 
How to Participate
Staff from both schools have put together a number of videos designed to introduce incoming high school students to the many different course options they have to choose from. Links to these videos have been posted on each school's homepage, and you can watch them at any time leading up to the Open House events to get a general idea of what courses may be a good fit for you. MCHS has also put together a video for parents/guardians who will be sending their first child to high school in the fall, which will guide them through the MCHS registration, transition and course selection process.
During each Virtual Open House, you can follow the Google Meet links to connect with teachers from each high school department, who will be happy to answer any remaining questions you may have, so you can feel confident plotting your course through Grade 10 and beyond. SGCHS Administrative and Student Services staff will also be kicking off their event with a live formal presentation to students from each feeder school, which will introduce themselves, the high school as a whole, and the Grade 10 Team for next year.
Programs of Choice at Connections For Learning
Connections for Learning is home to a variety of programs of choice for high school students, including Building Futures, Outreach, the Parkland Student Athlete Academy (PSAA) and Virtual Learning. Students interested in these programs will be able to connect with CFL staff during the MCHS Virtual Open House on March 10, with PSAA making an encore appearance at the SGCHS event on March 17. More information about these programs can be found on the Connections for Learning website.
More Information
MCHS & SGCHS look forward to seeing you at their virtual events! If you have any remaining questions after these events, feel free to contact your designated high school.
Memorial Composite High School
Phone: 780-963-2255
Email: mchs@psd.ca
Spruce Grove Composite High School
Phone: 780-962-0800
Email: sgchs@psd.ca