Regular Board Meeting Highlights - September 1, 2020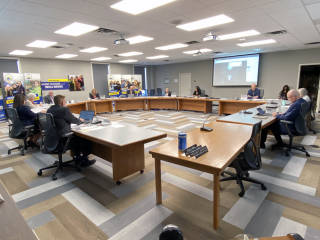 The Board of Trustees is pleased to share with all education stakeholders the highlights of our recent Board meeting held on Tuesday, September 1, 2020. The adopted minutes will be available on our website following the next Regular Board meeting.
Update:
As previously determined at the Board's Organizational Meeting in June by acclamation, both Board Chair, Lorraine Stewart, and Vice Chair, Eric Cameron, remain in those same roles for the 2020-2021 school year.
 (Swearing-in of Board Chair, Lorraine Stewart)
Next Regular Board meeting will be held on Tuesday, October 6, 2020 at 9:30 a.m., Centre for Education