Regular Board Meeting Highlights - January 12, 2021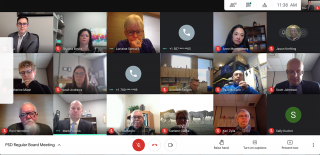 The Board of Trustees is pleased to share with all education stakeholders the highlights of our recent Board meeting held on Tuesday, January 12, 2021. The adopted minutes will be available on our website following the next Regular Board meeting.
Update:
The Board directed administration to establish a submission deadline for schools to nominate a first-year teacher for the Alberta School Boards Association's Edwin Parr Award as February 19, 2021. Furthermore, Trustees Lorraine Stewart, Eric Cameron and Anne Montgomery put their names forward to sit on the committee to select PSD's nominee for the award. The criteria for the award includes:

Any first year K-12 teacher is eligible for nomination.
A minimum of 100 full-time equivalent days of teaching within the current school year is required (i.e. September 2019 to June 2020).
May have up to 120 days of teaching services prior to signing a full-time contract

The Board directed administration to conduct an attendance area review of all schools in Parkland School Division in order to facilitate long-term planning and the effective use of our school facilities. This report will be provided to the Board of Trustees during a Regular Board Meeting in the fall of 2021. This will evaluate enrolment distribution at all schools especially in the City of Spruce Grove and the Town of Stony Plain with the modernization of Woodhaven Middle School as well as the future Stony Plain Central replacement school likely to begin construction in the Spring of 2021. Currently, PSD's schools are at 75% utilization overall. There are schools with low utilization in the 40-55% range, while other schools are experiencing high utilization above 90%.
The Board received as information the Quarterly Financial Report for the period ending November 30, 2020. As of November 30th, revenues year-to-date were $34.3 million and expenditures year-to-date were $30.7 million resulting in a surplus of $3.6 million. A balanced budget is forecast for the year ended August 31, 2021. Revenues are forecast to increase 2.0% overall du to the safe return to class funding offset by lower funding from Alberta Education due to lower than budgeted enrolment and the resulting decrease Weighted Moving Average (WMA) enrolment that funding is based on. In addition, there were decreases in other revenues that are directly affected by COVID-19. Forecasted expenditures are expected to be 2.0% higher than budget witch matches the increase in revenues.
The Board received as information the Alternative Education Programs Assurance Report. The Choice in Education Act, which took effect September 1, 2020, affirms that parents have the right to choose the kind of education they feel will be best for their children. Parkland School Division has a strong history of offering a variety of choices for educational programs, and continues to do so with the recent implementation of a variety of new programs.
The Board received as information the Wellness Assurance Report. The Parkland School Division's Wellness Initiative is focused on working collectively with staff, caregivers and community to provide programming support and services aimed at fostering wellness in children, youth and families. Wellness in this context is defined as creating healthy, responsive and innovative learning environments that are rich with the evidence-based norms for healthy communities including: daily physical activity and physical literacy, food security and nutrition education, environmental education and active transportation and the creation of positive social environments and mental health that produce deep relationships.
Next Regular Board meeting will be held on Tuesday, February 2, 2021 at 9:30 a.m., Centre for Education (Board meetings will be hosted virtually until further notice.)