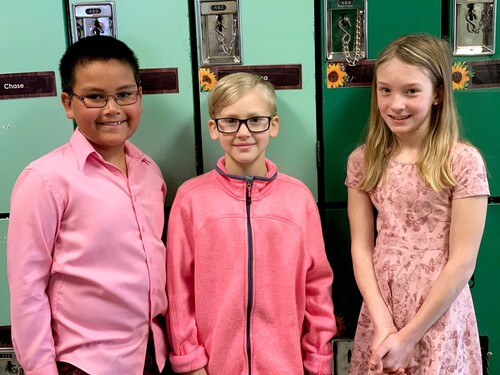 Parkland School Division encourages all students, staff and families to participate in Pink Shirt Day on Wednesday, February 22, 2023, by wearing your favourite shade of bubblegum, coral, magenta or watermelon. Wearing a pink shirt on this day shows your commitment to promoting healthy relationships and raising awareness about bullying prevention.
Pink Shirt Day started in small-town Nova Scotia, where a group of high school boys teamed up to distribute and wear pink T-shirts in support of their classmate, a Grade 9 boy who had been bullied for wearing a pink shirt to school. Their show of solidarity sent a solid message to the boy's bullies that their actions would not be tolerated, and today, annual Pink Shirt Day events held in communities across Canada continue to spread this message of kindness and understanding.
Being proactive in preventing bullying means we accept shared responsibility for the creation and maintenance of learning and work environments that are safe and welcoming for all students, their families and staff, as outlined in PSD's Administrative Procedure 390: Community, Equity and Belonging. Participating in events like Pink Shirt Day shows leadership in our schools and communities. This display of support is the foundation for creating bullying prevention strategies and modelling healthy relationships.
Show your commitment to creating welcoming, caring, respectful and safe environments and help stop bullying by wearing pink and sharing on social media using the hashtags #psd70 and #PinkShirtDay.
For more information on Pink Shirt Day and Safe and Caring Schools, please visit the Pink Shirt Day and Alberta Government websites.