Career Explorations Summer Institute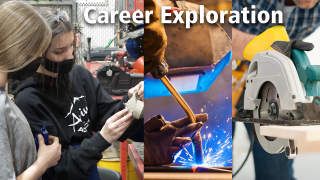 Parkland School Division students in Grades 8* and up can start thinking about their future careers now. If students are still undecided about which direction they may want to head, the Career Explorations Summer Institute being offered through Connections for Learning this summer is the answer. High school students can even earn credits at the same time. 
For further information or for registration information on this unique summer opportunity, click HERE.
As a collaboration between Parkland School Division and the Greater Parkland Chamber of Commerce, the Career Explorations Summer Institute is an opportunity for students to experience various technical courses and Career and Technology Studies (CTS) modules, giving them a brief look at a variety of trade or technology areas or a more intense exploration of one trade or technology area.
Career Explorations students will choose from a large number of potential experiences and explore each as long as time allows during the three-week period. Students may attend for one, two or three weeks, depending on their chosen area of focus.  
Participants will also have the opportunity to learn from Northern Alberta Institute of Technology (NAIT) staff about careers available in the trades (including information specific to their chosen area of focus), the advantages of and requirements for studying at a polytechnic, and how to apply there for post-secondary.
Each course section is 5 days and includes a Saturday. The majority of CTS courses will be offered at Spruce Grove Composite High School. Some learning will be happening in the community with trade partners including Heavy Metal Equipment Rental, Fix-It Right Plumbing, and OK Tire. 
Dates & Times:
Section 1: July 2, 3, 5, 6 & 7 from 8:30am-3:30pm
Section 2: July 8, 9, 10, 12 & 13 from 8:30am-3:30pm
Section 3: July 14, 15, 16, 17 & 19 from 8:30-3:30pm
*Students who have completed Grade 7 will be eligible for the Trade Explorations course.
For further information, contact:
Mike Partington
PSD Vocational Education Coordinator
Email: mpartington@psd70.ab.ca
Phone: 780-966-2209