2020-2021 Plan for School Re-entry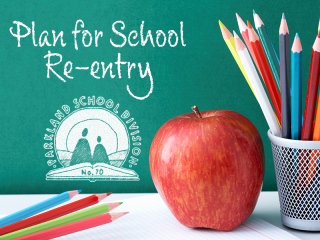 The Parkland School Division 2020-21 Plan for School Re-entry will guide our schools when it comes to our COVID-19 response and operations for the 2020-2021 school year.  All of the measures implemented in this plan apply to both Scenario 1 and Scenario 2 when it comes to general building safety, enhanced cleaning, screening and responding to illness. 
PSD Early Education Re-entry Plan >>>
Student and staff safety is the centre of all decisions that guide PSD's Re-entry Plan. Parkland School Division is committed to Student Success and Well-Being. The Division recognizes that, as a system, well-being must be present for all stakeholders, and therefore is committed to fostering physical literacy, lifelong health and well-being at all levels. 
Procedural Guidance
Procedural guidance comes from the Ministry of Health and is informed by Alberta government guidance documents, directives from Alberta Education and PSD policies and administrative procedures.
Key documents include:
PSD Documents:
Alberta Government/Alberta Health Services Documents:
Alberta Education Documents:
Three Scenarios
The Alberta Government has indicated that the preferred and most likely scenario is that students will return to daily in-school classes at the beginning of the school year. While school divisions have some flexibility in addressing local context, any decision on which scenario is implemented resides with the Alberta Government. The decision will depend on advice from the Chief Medical Officer of Health based on how the pandemic is trending at that time. School divisions have been advised that a final decision on which scenario to be implemented will be made before August 1, 2020.
Scenarios:
In-school classes resume (near normal operations with additional health measures)
In-school classes partially resume with additional health measures
At-home learning continues, in-school classes are cancelled
How is Scenario 2 different from Scenario 1?
The guidance described for Scenario 1 and Scenario 2 is similar for many categories.
 
Scenario 2 guidance tends to be more prescriptive.  
 
A key difference between the two is the implementation of defined cohorting with Scenario 2. This means that groups of students must stay together and would MOST LIKELY attend schools on alternating days in order to facilitate more physical distancing. Students work on teacher assigned/self-directed/online content on days when they are home.
Important to Note
As mentioned in the province's Re-Entry Plan announced June 10, it is imperative that school authorities plan and prepare for all of these three scenarios, as the COVID-19 pandemic may change at any time, and school authorities may be required to transition from one scenario to another with short notice. If the Ministry of Health instructs the division, or a school within the division, to transition to Scenario 2, students and staff will be required to quickly transition to a program that blends in-school classes with learning-at-home.
Implementation of Parkland School Division's school re-entry plan is subject to change with direction from the Chief Medical Officer of Health. It is based on the best available information and conditions related to the COVID-19 pandemic. This plan will be adjusted when information becomes available as the status of the COVID-19 pandemic changes. Please stay tuned to the Parkland School Division website for updates.

For more information, contact:
Parkland School Division
Phone: 780-963-4010
Email: divisionoffice@psd70.ab.ca