Back to staff directory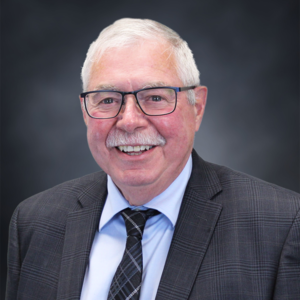 Eric Cameron
Ward 5
Ph: 780-903-6112
After teaching junior high and elementary school (as well as being an administrator) in Fort McMurray for six years, Eric and his family moved to Spruce Grove in 1980 where Eric began a 31 year career with Parkland School Division as a teacher and administrator. In addition to administration, Eric taught grades 3 to 7 at Stony Plain Elementary and moved to Brookwood School and taught grade 4. Eric has a strong and supportive family which includes his wife, Jane, and two married daughters (Lisa and Alison) who were both educated in Spruce Grove schools. Eric and Jane's four grandchildren provide a new perspective to their lives. Eric and Jane believe strongly in an active, healthy and balanced lifestyle and can often be spotted enjoying the outdoors, attending the theatre, or enjoying the many festivals and events held in Spruce Grove and surrounding areas.
Eric is currently working together with his fourth Board of Trustees, having served as Board Chair for six years with previous Boards. During his years serving Parkland School Division (PSD), Eric has encouraged and supported a team approach to solving problems and setting direction for the Division. From his years as teacher and administrator, Eric has kept well-informed of current trends and research in all facets of education and has an implicit understanding of how decisions made at the Board table affect frontline staff. As a board member, Eric has also developed a clear understanding that management, through Trustee and administration collaboration, is crucial to a progressive and successful educational organization. PSD has a strong profile in the province, which has provided a great sense of pride for Eric. He has championed many initiatives and accomplishments within PSD over the years, including:
Dealing with substantial growth in student numbers in the Division, especially in Spruce Grove and Stony Plain by advocating for new school builds, modernizations and modular classrooms.
Embracing increased awareness of the important contribution and history of our First Nation, Metis and Inuit peoples, especially on Treaty 6 territory.
Strengthening the role of the Board in governance practices that support the Mission and Vision of PSD, while dealing with current political and social issues.
Valuing parental and community input and encouraging a variety of formats to seek such input.

This includes regular communication with stakeholders to let them know they have been heard and what is being done to incorporate their input into Division planning.

Establishing a closer relationship with support agencies and the business community to help address school needs.
Advocating for wellness initiatives for both students and staff, including supporting the position of a PSD Wellness Coordinator.
Taking a more active role in the Public School Boards' Association and the Alberta School Boards' Association.
Advocating for supports for PSD at the municipal and provincial level and developing good working relationships with mayors, councillors, and MLA's.
Eric firmly believes that Parkland School Division should:
continue to embrace authentic, inclusive education that allows every child the opportunity to seek their true potential no matter their circumstance in life.
put supports in place for Early Years Students to proactively address problems and foster success in future school years.
continue to seek out and embrace new ways to work hand in hand with our Indigenous neighbours to increase awareness and understanding of First Nation history, contributions, and their valued place in our educational community.
explore a variety of platforms for authentic parental and community engagement.
continue to be responsible stewards of our financial resources with a "students first" focus in all financial decisions.
promote the continued delivery of Innovative Education, Student/Staff Wellness programs and Environmental awareness.
Priorities in Public Education
Supporters of Public Education must be the true defenders of inclusive education where all children matter and are given the opportunities to experience, with supports, a successful educational program.
Supporters of Public Education must respect the local decision making authorities (School Boards/Administration) that understand and build on the local context to support and enhance the educational programs offered.