6th Annual Try-Me Try-Athlon
Date: Friday, June 3
Time: 9:30am Check-In; 10:30am Warm Up; 11am Race Start
Location: Stony Plain Outdoor Pool & Stony Plain Central School (5210 55th Ave, Stony Plain)
About the Try-Athlon
The Try-Me Try-Athlon is a division-wide event celebrating physical literacy in children and youth through swimming, bicycling and running. The Try-Athlon encourages students to train in school and at home, allowing them to build their skills and work toward feeling competent and confident in multiple environments.
The 6th incarnation of this event will look something like the one that started it all. The inaugural 2015 Try-Me Try-Athlon was also held in and around the Stony Plain Outdoor Pool, albeit using different running and biking routes than the ones planned for 2022. To get a rough idea of what the 6th Try-Me Try-Athlon will look like, check out the following video:
About Kids of Steel (KOS)
The Try-Me Try-Athlon is a Kids of Steel (KOS) Triathlon event. Kids of Steel is the national title for youth triathlon events and programs across Canada. All KOS events follow a similar philosophy emphasizing "sport for all," inclusion and community.
KOS Triathlons are designed to offer youth the opportunity to experience the sport of triathlon in a positive environment. The distances are much shorter than those in adult triathlons and change as participants mature.

All athletes and parents/guardians, whether recreational or competitive, are expected to demonstrate the following behaviours at KOS events:
Respect for everyone
Encourage "finishing is winning"
Turn around at the finish and cheer the next person to the line
Friendly, supportive interactions
For more information about Kids of Steel, visit the Triathlon Alberta website.
2022 Try-Athlon Sponsors
Try-Me Try-Athlon FAQs
Who is able to take part in the Try-Athlon?
All Parkland School Division students ages 5 and up are welcome to register for this event, providing their parents/guardians have:
Made arrangements with a classroom teacher for their child to partake in the Try-Me Try-Athlon, including plans for missed assignments or work. 
Notified the school office of the planned excused absence. 
Prepared to be in attendance for the duration of the event, or made arrangements for a trusted adult to attend and be responsible for their child in their stead.
Parents/guardians will also be responsible for transporting their child to and from the event. 
Are there any additional fees outside of the $35 registration fee?
While there are no additional fees outside of the registration fee, Try-Athlon participants are responsible for providing their own race kit equipment, as well as their own transportation to and from the event.
Students needing additional support developing a race kit or finding funding for the registration fee should contact Miranda Niebergall at miranda.niebergall@psd.ca.
Optional Team Registration
Students can choose to participate as a member of a team where each team member participates in one discipline of the event (i.e. the swimming, biking or running leg of the race). Each participant would then pay an entry fee of $15.
Please note: Even though a student may be signing up only to participate in one sport of the Try-Athlon, a registrant who opts to pay the $15 individual entry fee must register as a member of a 3-person team.
How old do you have to be to participate?
Students must be between 5-18 years old to participate in this event.
How do I register for this event?
Registration and fee payment can be made through the PowerSchool Parent Portal:
Log in to the PowerSchool Parent Portal at https://powerschool.psd.ca/public. If you have not yet set up your PowerSchool account, please contact your school for your access ID and password, and see our PowerSchool page for more information on how to set up your account.
 
Click on Student Fees in the Navigation menu at the left of the screen.
 
Click on the tab labelled with your child's name at the top of the screen.
 
Click on the Try-Athlon logo in the Additional Items list at the bottom of the screen.
 
Complete the registration form and pay the $35 registration fee.
 
Print out your registration fee receipt (as proof of purchase).
 
Repeat this process (from Step 3) for every child you wish to register for the event.
Can parents or the community get involved?
Teachers, emergency personnel, district supports and trained volunteers are the only adults allowed on the course. Parents are welcomed to join the event as a volunteer or to donate to the Wellness Initiative to support physical literacy events and opportunities like this in Parkland School Division schools.
How long is the race?
The race distances for each age group can be found below. These distances align with guidelines set out by Triathlon Canada for Kids of Steel Triathlons. Participants can choose their distance grouping. Heats of the same age group/distance choice will be split or combined, depending on final number of participants.
T-Shirt Colour/
Heat Grouping

Ages 
(as of Dec 31)

Swim 
Distance

Cycle 
Distance

Run
Distance

Red
5-7 Years
(open to 8-9 year olds)
50 m
(2 lengths)
2 km
500 m 
Orange
8-9 Years
(open to 5-11 year olds)
100 m  
(4 lengths)
4 km
1.5 km
Blue
10-11 Years
(open to children aged 8+)
150 m
(6 lengths) 
6 km
2 km
Green
12+ Years
(open to children aged 10+)
200 m
(8 lengths)
10 km 
3 km
What are the rules?
The following rules apply to all triathlons for youth and adults. All competitors are expected to know the rules and follow them at the event.
Uniform
Athletes must cover their chest and stomach on the bike and run.
Swim
No forward movement using bottom, lane ropes or walls.
Athletes can stop to rest (stand up) but can only move forward by swimming.
No flippers or propulsion devices allowed.
Kids 7 and under require a life jacket.
Transition
Helmet must be fastened before touching the bike (after swimming).
No riding in transition (walk bike to the mount line).
Helmet must stay done up until after the bike is racked (after cycling).
Bike
No drafting (riding right beside or behind someone) in KOS races.
Athletes must stay three bike lengths behind someone unless they are passing.
Run
No crawling! Walk, jog or run.
Specific rules regarding equipment are listed in Triathlon Canada's KOS Guidelines and Rules Brochure.
What equipment is needed for each participant?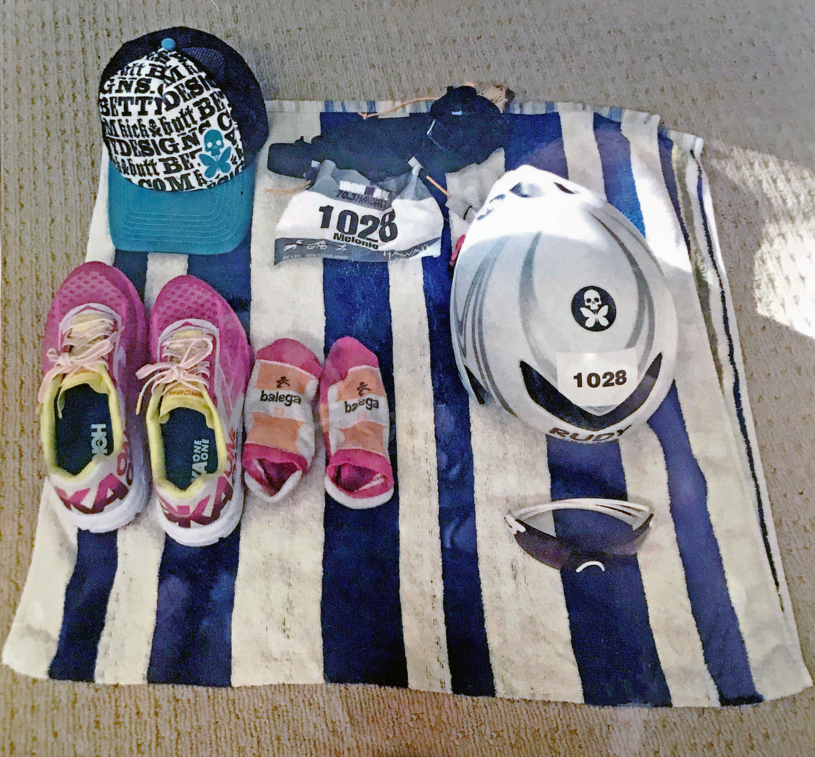 You can enter the Try-Athlon with a minimum of equipment. All you need in your race kit is:
A bike (either road or mountain bike)
An approved helmet (ANSI or SNELL)
Running shoes
Swim suit or shorts
Goggles (if desired)
Towel (optional but recommended)
Hat (optional but recommended)
Water Bottle (optional but recommended)
T-shirt (supplied) or race singlet for boys
A smile and a desire to have fun
Transition Area Equipment
A race kit is composed of all the items you will need during the race. The following items are to be kept in the transition area during the race:
Bike
Helmet
Shoes
Race Number (with shirt)
Towel (optional but recommended)
Hat (optional but recommended)
Water Bottle (optional but recommended)
Race T-Shirts
As part of their registration, race participants will receive a free t-shirt in their group colour (red, orange, blue or green). We ask that participants wear these t-shirts during the bike and run portions of the race, as this will aid our volunteers in keeping track of the distances each participant is required to complete.
We have pre-ordered t-shirts in various numbers and sizes based on past participant data. We will do our best to supply participants with a t-shirt in their requested size and designated colour, but cannot guarantee that one will be available. For this reason, we ask participants to bring their own shirt for the race, preferably one that matches their group colour.
Race Kit Drop-Off
Students needing additional support developing a race kit or finding funding for the registration fee should contact Miranda Niebergall at miranda.niebergall@psd.ca.
Participants are responsible for gathering their own race kit and ensuring that their race kit is dropped off during race check-in at the Stony Plain Outdoor Pool on June 3, 2022 beginning at 9:30am. 
Note: Parents may drop off race kits prior to students arriving. Check-in begins at 9:30am followed by an Opening Ceremony at 10:30. The race begins at 11am.
What should I expect on race day?
Details specific to this year's Try-Athlon event and its participants can be found in the Details of the Day document linked above. Attendees should also familiarize themselves with the Course Map, which outlines the course route, the check-in, transition and finish areas, as well as designated parking and viewing areas.
On Race Day
If you're attending or in the neighbourhood during the race, please anticipate heavy traffic in and around the Stony Plain Central School & SML Academy area. Parking will be available along 52nd Street and 55th Avenue, and in the Glenn Hall Arena lot. NO PARKING for Try-Athlon attendees will be allowed in the Stony Plain Central School lots.
Remember to Bring:
Proof of registration
Race kit equipment (see above)
Comfortable clothing and shoes (dress for the weather)
Sunscreen
Water & snacks
Your enthusiasm
What other triathlon events can my child participate in?
The Great White North Triathlon is an annual event held at the Allan Beach Resort west of Stony Plain since 1991. Approximately 800 athletes of all ages run the GWN triathlon courses (Olympic, Half, Team, Duathlon, Aquabike and Sprint) each year.
For the first time in 2022, event planners are offering the Try-A-Tri, a short, beginner-level course similar in length to the Try-Me Try-Athlon's Blue and Green heat groupings.
If your child enjoys the Try-Me Try-Athlon, we encourage you to check out the Try-A-Tri for another fun, local triathlon opportunity.