Be prepared... winter is coming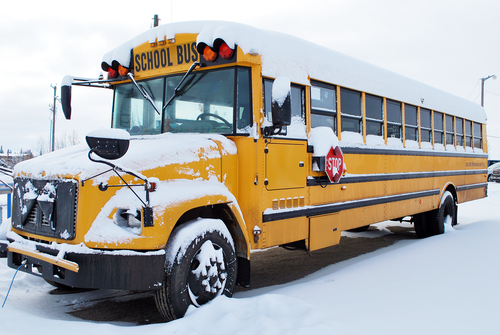 Monday, November 20, 2023 - The milder October/November weather has been a welcome treat but winter will soon be here, which means students, parents and guardians need to be prepared.
The snow, ice and other inclement weather will be soon upon us and Parkland School Division wants to ensure students are dressed for the season whether they ride student transportation or not.
Students riding buses to and from school are advised to be prepared for the colder weather and the effect it will have on buses. Cold weather or poor road conditions can cause delays for buses, they can become cancelled or run into other mechanical issues and PSD wants to ensure riders are dressed for the weather in case of these situations.
School bus cancellations are possible if the temperature with or without windchill is minus 40 degrees Celsius or below, if visibility is less than one kilometer or if rural roads are impassable due to snowfall. For students at Athabasca Delta Community School (ADCS), bus cancellations can happen at minus 45 degrees Celsius or below. ADCS students and parents can check the school's Facebook Page for transportation messaging.
An official notice for school bus cancellations will also be posted on the Bus Status Page.
If a bus is set to be delayed more than 10 minutes, an automatic telephone/messaging notification is sent out to parents/guardians. 
The final decision to send your child to the bus stop or to school rests with parents or guardians and it is the responsibility of parents to dress their child appropriately for their journey to and from school each day.
Read the full PSD Student Transportation guide for parents and guardians to learn more about severe weather and other transportation information.
For further information, contact:
Transportation Services
Email: transportation@psd.ca
Phone: 780-963-8452